Disclaimer:
This post contains references to products where I received commissions for purchases made through links. This is to help support my blog and does not have any impact on my recommendations.
When you first jump into the pool of making a new website for your business or personal usage, you're faced with a lot of confusion and ambiguity. Mostly, this confusion is derived from the fact that the market today is flooded with web hosting providers that it's almost impossible to pick one.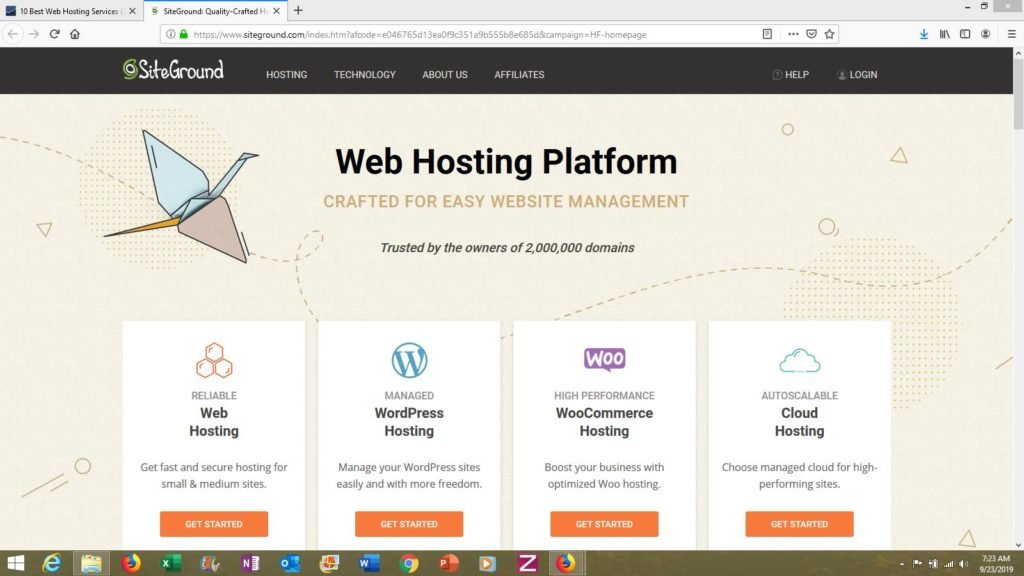 What should a person look for when choosing a good web hosting service? First thing on the list should be its reliability. Second, its price and the level of performance they offer for that price, and lastly the level of customer service they offer to their clients. Although there are many other things to be considered as well, there are three, we believe are the most decisive ones.
In order to help you with your decision, we've found a web hosting service provider known as SiteGround. Kicking off back in 2004, this service provider has come a long, successful way.
With now serving 2 million domain owners, according to their website, SiteGround has become one of the largest and most renowned players in the market.
SiteGround doesn't just confine to web hosting, they offer various other services too, like WordPress hosting, WooCommerce hosting and Cloud hosting. Their special prices start at $3.95 per month, and goes up to $11.95 per month, depending on the package you choose.
What's great about SiteGround is the fact that it has data centers spread across three different continents, this offers you faster loading times as you'll be hosting your websites closer to the people visiting it.
The data centers are designed with high standards with an outstanding network, high-quality electric system to provide seamless and uninterrupted service through and top of the line physical security using man-power as well as video and other surveillance methods.
Furthermore, SiteGround runs on all the latest technologies required by a modern, high-end hosting system. All the data storage is done on SSD drives which makes operations, a thousand times faster than on normal drives.
Their servers run on the newest HTTP/2 servers which are still only offered by a handful of web hosting services, allowing their clients to have fast loading websites. SiteGround's uptime is also extremely remarkable and reaches up to a high percentage of 99.99%.
Customer support is also a top priority at SiteGround. Therefore, they offer you 24/7 support through various channels like email, live chat or phone calls. And to further facilitate you, they offer help in not one but three different languages, English, Spanish and Italian.
Like most other hosting providers, SiteGround also offers a conditional 30-day money back guarantee, in case you don't find their services satisfactory and want to withdraw from them.
Pros
Website transfers are completely free.
Amazing customer support system.
A very high and satisfactory uptime.
Provides an array of advanced security options and features.
Offers numerous eCommerce applications, that can be installed on one click.
Cons
The storage space offered is quite limited.
They only run on Linux Servers.
Free website migration comes with some limitations.
Conclusion
Siteground offers amazing speed, customer support and excellent uptime as well.