Disclaimer:
This post contains references to products where I received commissions for purchases made through links. This is to help support my blog and does not have any impact on my recommendations.
Glow Host was founded in 2002 and is marked as an award-winning web host that is known for its reliable hosting service at nominal prices. Currently, Glow Host is engaged in serving its tens of thousands of customers via dedicated server hosting, shared web hosting, cloud virtual dedicated server hosting and cloud hosting solutions.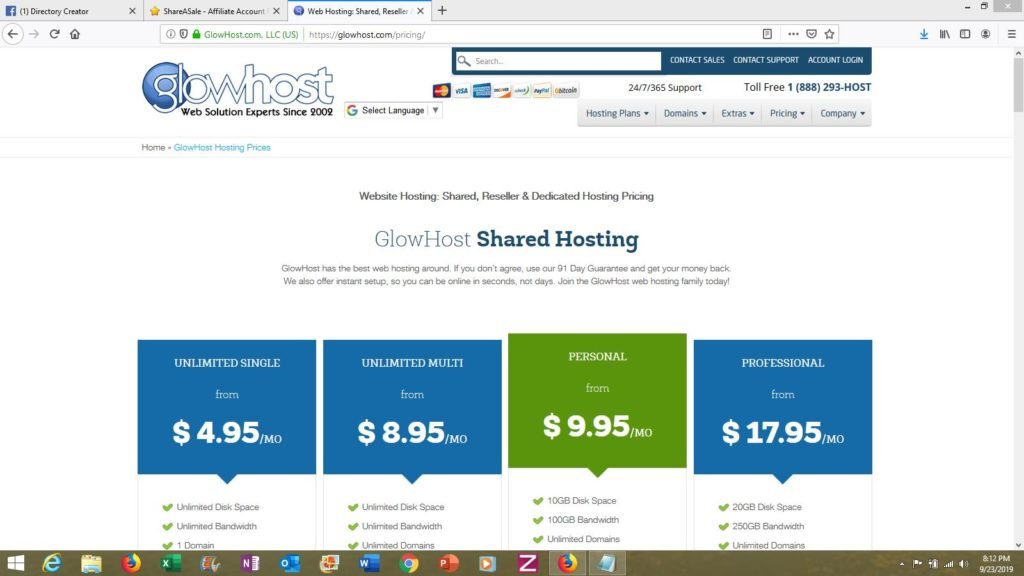 Apart from all this, Glow Host is strictly dedicated to its customers and is finding new ways to help them. In order to help their customers, make better decisions, it offers a 91-day money-back guarantee.
Along with that, it ensures its customers a 100% network uptime and up to 99.99% uptime hosting that may vary due to the chosen solution.
Glow Host offers 4 web hosting plans that are single domain, multi-domain, personal hosting, professional hosting. Cloud Linux is used on all packages to guarantee reliability and performance.
The most basic plan costs $3.47 a month and has unlimited disk space, monthly transfers, free SSL certificates, and much more. As we move towards professional hosting, the price increases to $12.57 and the plan offers greater performance.
Along with that, there are unlimited domains, free SEO tools, many web apps, 1500+ web design templates and 3x redundant file storage etc. There is so much in a single plan however the only downer is that the disk space is limited to 20GB and the monthly transfer is limited to 250GB.
There is a 100% uptime guaranteed in the web hosting services of Glow Host. And the uptime guarantee for a 12-month period is 99.95% which includes the power outages, hardware malfunction and scheduled maintenance for a whole year.
The best part is that a prorated refund is given to clients of their sites suffer from downtime due to network datacenter issues or a power or hardware failure.
The data centers for Glow Host are built in a way that provides only the best to their customers and provides web hosting of the highest standards.
Glow Host offers technical support 24/7/365. The technical team with experts do their best to satisfy customers. Also Glow Host provides live support in the form of telephone calls for the US-based customers. Other than that, there are forums, knowledgebase, FAQs to help the clients solve common problems.
Moreover, training sessions are held over Skype and IM to help them through the initial phase. Users are also encouraged to contact through social media.
Pros
* Amazing and fast customer support
* 99.95% consistent guaranteed uptime
* Very user-friendly control panel
* One-click script installer
* 91-day money-back guarantee

Cons
* Ticket responses take an hour
Conclusion
Overall, the web hosting by Glow Host is quite good. With the numerous templates that they offer and unlimited space in the basic package is a plus.
Along with that, the prices are substantial too. Customer satisfaction is said to be 100%. With the 91-days money-back guarantee it sure is one of the prominent web hosting companies to consider.