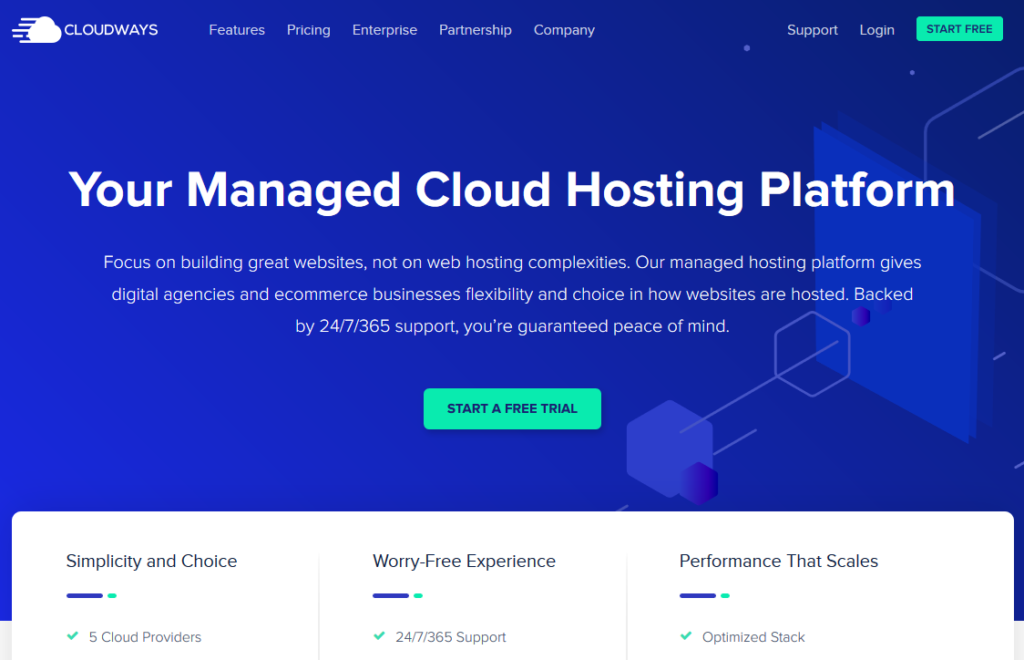 Disclaimer: This post contains references to products where I received commissions for purchases made through links. This is to help support my blog and does not have any impact on my recommendations.


Scalability and flexibility- these two capabilities are the primary around which all the services of Cloudways are based upon. When shopping for a cloud hosting service provider primarily for WordPress sites, Cloudways will completely stand out from the other options available.
Founded in 2011 and revamped in 2016, Cloudways is without doubt a service provider that has attained positive attention from the market in very little time. Considering that it is a managed hosting platform, therefore it makes it possible for websites to go live in a matter of minutes and the cost of a few clicks only.
Cloudways has made server management especially very simple and easy. The Cloudways custom control panel is very intuitive and modern. Server, applications, teams and projects, everything can be accessed through the menu of this control panel.
Each of these tabs further has its own web pages which include usefulness and features consequently.
Making modifications to a website and regretting them is not an option when using Cloudways. Its staging feature permits one to test and view the changes prior to pushing them to the actual website.
In case you want your clients to view these changes too, purely make use of cloning and make copies of the site which can be shared via new servers so clients can review any alterations.
The server functionality and speed offered by Cloudways cloud hosting service is extensive. The use of several caching elements ensures that the website loads fairly quickly and correctly.
A number of servers located in differing parts around the world also enhance the speed of the website.
24/7 customer support is readily available for all Cloudways clients. Contact the customer support team via a call, an email or browse through the blogs to look for the remedy to any complication that you may be experiencing.
CloudWaysBots also monitor services and push notifications as soon as any update is accessible or any problem is encountered.
Cloudways offers a number of packages for its customers. The pricing on Cloudways is structured on the "pay as you go" model. The prices and services included in these packages depend on which of the five partner's services one opts for.
With the basic package priced at $10 per month to the most pricey one at $226.05 per month, the customers can opt for any package that suits their desires and requirements.
Pros
* 5 cloud hosting services available to choose from.
* Server speed is commendable.
* Intuitive and easy to use control panel.
* 24/7 customer support.
* SSL Certificates are free.
* Staging and cloning for easily making changes to websites.
Cons
* Lack of email hosting.
* File manager not included.
* Domain name registration facility unavailable.
* Expensive as compared to other service providers.
Conclusion
If speed and simplicity of use is your goal in terms of cloud hosting, there is no better service provider for you other than Cloudways. With fantastic server speed, simple yet effective control panel and a simplified approach towards web hosting, it is an investment that is worth the high valued price tag.