Disclaimer:
This post contains references to products where I received commissions for purchases made through links. This is to help support my blog and does not have any impact on my recommendations.
WebHostingPad started as a small business with just a few servers. With over the years, it has grown into a big name. Web Hosting Pad guarantees the best web hosting experience in the prices you can afford.
Web Hosting Pad also guarantees a fast, secure and reliable service that allows you to do whatever you want.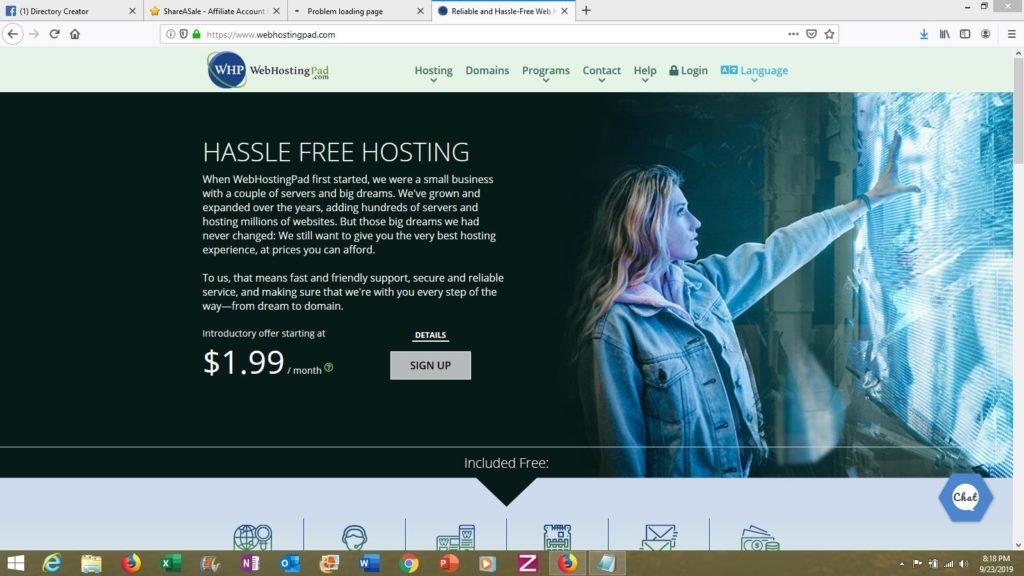 Web Hosting Pad offers Website transfers, SSL Certificates, free mobile site builders, automated malware and quarantine scan, free unlimited emails, free ecommerce integrations and SSD Data storage.
The prices for WebHostingPad starts from just $1.99 per month that can easily fit into the budget of small business. This power plan includes unlimited space, unlimited bandwidth, unlimited domains, unlimited email accounts. This also comes with a website builder and is compatible with Weebly and WordPress.
If you are a price-sensitive company, this is the cheapest hosting program available to you. However, the options will be limited in this program. If price is a great concern for you then this is the program for you.
Also, WebHostingPad offers 30-day money-back guarantee that strengthens the faith in their service and allows you to wipe your hands off this service under 30 days.
Along with being the cheapest service, there is, it also covers a great deal of security for your website. Cheap options often cut down on security and slim down your options for a secure website, offering you good security only inexpensive packages.
But, with WebHostingPad you get a malware and quarantine scanner that helps you scan any potential viruses that might harm your website.
The Customer support offered by Web Hosting Pad is pretty decent. It offers 24/7 support and the server connects you instantly. They take a minute on average to answer your questions. WebHostingPad has a team of experts and professionals at the back end who will provide you with good support and help you with your queries.
The signup process is also really easy. In just a few steps you will be signed up for WebHostingPad and will enjoy the service.
One thing users need to know is that their data must not exceed 150,000 files otherwise they will have to pay $10 extra every month to obtain another space for 150,000. There is also a limit on emails. You can't send more than 300 emails and hour and 3000 emails a day.
Pros
* Very Cheap and affordable
* Good Customer Support
* 30-day Money Back guarantee
* Great Security enhancements

Cons
* Page loading times are 40% slower
Conclusion
Web Hosting Pad is a really cheap service that is quite the ideal option for small business companies. The security is also sound. However, due to the slow page loading time and bad uptime of 97.65%. Although the website guarantees a 99% uptime, in reality, it's quite low.
There are plenty of other options on the market that provide a better service but if you are looking for something cheaper WebHostingPad is for you.