Disclaimer:
This post contains references to products where I received commissions for purchases made through links. This is to help support my blog and does not have any impact on my recommendations.
Ava host has been in the market for 18 years and it has been operating with their data centre located in North Carolina, USA. It is a web-based website hosting company that offers all small and big companies different types of hosting and domain services.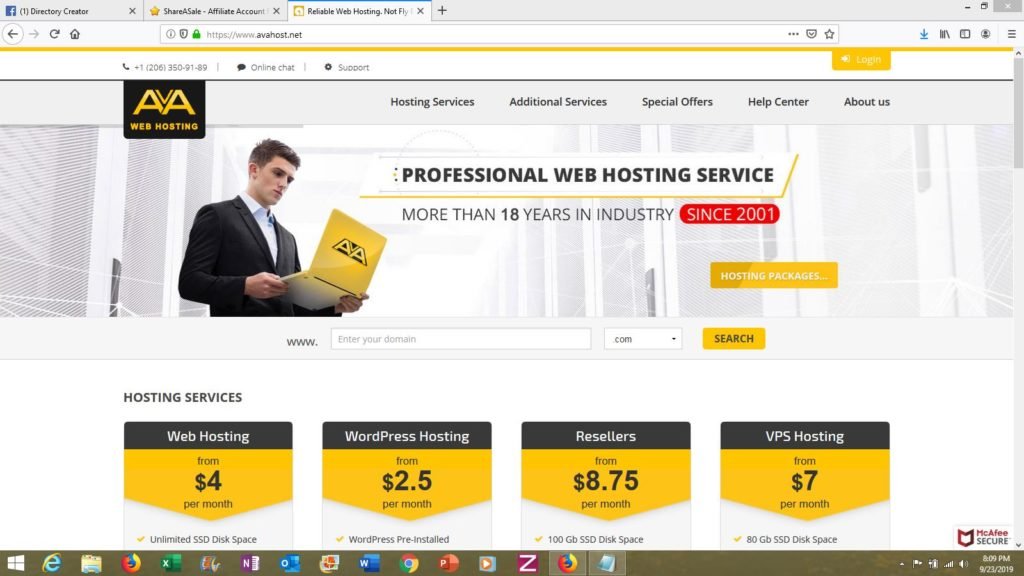 Virtually, the service offers all major types of hosting packages like standard hosting, VPS hosting, domain registration and website promotion etc.
Ava Host caters to all. It has a total of four plans: small, standard, business and premium. All four come with unlimited traffic, unlimited backup, website builder, scripts auto-installer and free domain name.
The disk space ranges from 10GB to unlimited and the sites in account range from 2 to 200. The subdomains also vary in each package. The basic plan starts with $2.9 a month and the premium plan is for $8.95 a month.
For technical things like web hosting, customer support plays a major role. With a great number of customer problems arising each day, it is important that customer care is well up to the mark.
Also, it is important that there is a group of experts on the other end that will help you resolve any issues that you are facing like server problems. Ava Host offers live support in the form of chat boxes where you can type any question, anytime and get the answer to it.
Along with that, Ava Host offers FAQs where you can find answers to some of the most common questions.
Ava Host guarantees its customers security and a 99% uptime. They have a safely encrypted server as well as security for their domain.
There are almost 20,000 Linux and Windows servers on the back end that increase the reliability of the web hosting service. Along with this, the whole network runs on Ethernet links from 6 separate backbone providers.
Ava website builder is also really great with over 200 themes and a lot of plugins and extensions. You can publish with a single click and also save your changes side by side. Also, Ava Host offers free SSL certificates which means users will more readily use your sight due to no security issues.
Other than this, Ava hosting works for domain registration, software licenses and website promotions.
What is the best thing about Ava is the fact that they have 60-days money-back guarantee that will return your payment if you are unsatisfied with the service within the first 60 days.
Other than that, there is also a trial period of 30 days which is great. Customers can use the service and decide if this is the right one for them.
Pros
* Dedicated servers. * 99% guaranteed uptime. * Live support. * No fees for set up. * Quality web security * 30 days' free trial. * 60-days money-back guarantee
Cons
* Additional features like a custom design are expensive.
Conclusion
Overall Ava offers great service along with the nominal packages. The technical support is absolutely brilliant which makes it a very good candidate while selecting a web hosting service. With the 60 days' money-back guarantee and the 30 days' trial, it is easy to determine if you like the service or not.