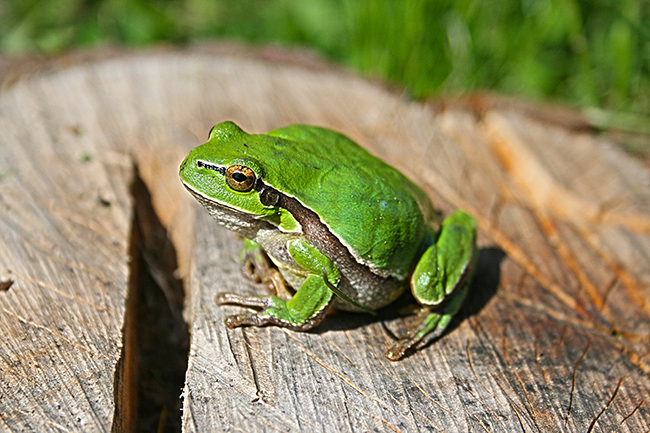 Don't go green with envy over the success of your competitors' Adwords campaigns. Photo via
Kaboompics
.
I know, that's a pretty harsh headline. But it's true.
Some of your AdWords competitors are making more money than you.
Whether you're trying to generate leads, get new SaaS users or make ecommerce sales, there's an AdWords competitor out there who's able to spend more than you to acquire new business while also making more money at the same time.
But here's the good news: You can get much more from your modestly sized budget if you're willing to look at things a little differently.
Let's take a look at the four biggest things you need to change:
Let's dig in.
|0754d366167f0d9b7735b652b030a8c8|
Did you know that it takes on average between five and 12 touches of following up with a prospect before you close them?
But I'm not talking about manually spending more time emailing or calling prospects.
Because how many times have you complained about not being able to get a hold of your form leads?
Let me guess — quite a bit.
What you do after they convert |e824ebb29679b355caa187d504ff7109| as what you did before they converted.
If your AdWords competitors are smart (and I know some of them are), then they already have an email nurturing program in place to drip value on their leads.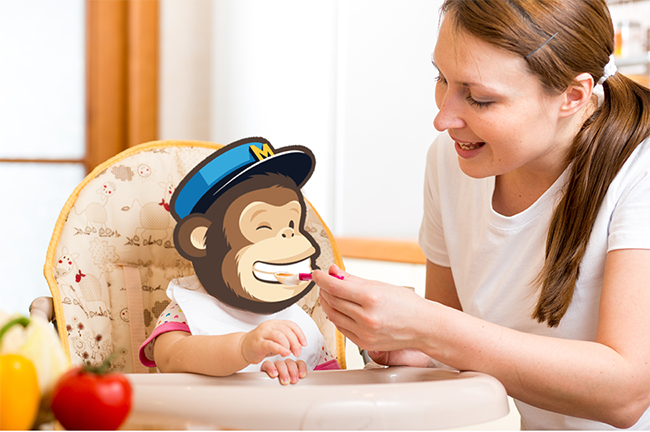 You know, to keep their prospects engaged, fed and happy.
And while some of your competitors may be bigger than you and have more money, there's absolutely no reason why you can't do the same.
For our PPC agency, here's what our workflow looks like when we're trying to give someone a custom proposal:
| | |
| --- | --- |
| Email 1 | What our proposal looks like |
| Email 2 | AdWords screenshots of ongoing monthly improvements |
| Email 3 | Monthly service or one-time package |
| Email 4 | Custom goal setting ideas (scale or get lean) |
| Email 5 | Links to our partner webinars |
| Email 6 | Podcast/interview links (showing thought leadership) |
| Email 7 | Case studies from current clients |
| Email 8 | Call to action of getting a proposal |
| Email 9 | New AdWords screenshots of improvements |
The goal of each email is to showcase our skills and the features and benefits we can bring to prospects and their business.
We were super impressed with the continuous open rates (50% average throughout the entire sequence), but even more blown away to see that leads we've never heard from initially |2d4023337b0a65b17f3491cca50817eb|
Which, funny enough, is a link to the podcast I did with the peeps here at Unbounce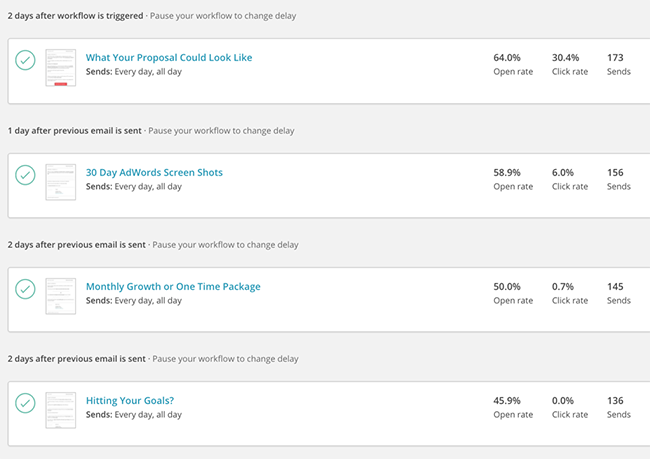 Here's a snapshot of our first four drip emails.
So if you're spending precious dollars on AdWords, how are you making sure that none of your conversions are going to waste?
If you think you can afford to have a "lead nurturing program" that's made up of only two phone calls and one email, then you're wasting your time and money.
Because it takes much more effort these days to to turn a conversion into a sale, you need to equip yourself with the tools that sales professionals use on a daily basis.
Here are a few to help you out:
|d2cf6391a47c097d6c383fd0cd5dbe51|
MailChimp is one of the easiest email automation tools out there.
If you can map out five emails that would bring value to your prospects, then turn them into a MailChimp automation workflow.
The goal of MailChimp will be to get your prospects to take a specific action. In our case, it's a simple response that they want a proposal from us. When that happens, we move them over to Yesware.
|6b2479e7482724ee4e27c726376acab6|
Yesware is a Gmail tool that helps you track email opens and gives you the ability to automatically remind yourself to follow up with leads after a certain period of time.
Once someone has replied to us via MailChimp, we put them in Yesware as they've now moved into our sales funnel.
Yesware helps us track who opens our emails and reminds us to follow up with prospects too.
|e6dad6ac4e1b45df229f6d6b4c23cfc7|
Autopilot is a cool tool that allows you to "autovisit" the linkedin profiles of your prospects. You set the criteria and the tool will notify your prospects that you visited their profile.
For us, this acts as great touch points without having to manually visit profiles every day and helps us look like we're everywhere when someone is considering working with us.
|844e225e5a2a9eca025e70b1836b8be3|
IFTTT stands for "if this, then that," and it allows you to automate some of your lead nurturing touch points.
Let's say someone comes through as a lead on your landing page. You can then use IFTTT to connect with them on Twitter and linkedin (if the emails match) with a certain amount of time delay.
This will make you look like you're going the extra mile compared to some of your competitors (who your lead could be talking to) to really want to work with the lead.
But don't take my word for it.
I spoke with Sujan Patel from ContentMarketer.io who gave me a new perspective on the focus of nurturing:
When someone decides to become a lead it means they've decided to "explore" or find out more, not purchase (you made a good first impression). Lead nurturing keeps you top of mind (or close to it), builds credibility, trust and helps you passively demonstrate your value.
The same thing applies to AdWords traffic.
If someone finds you via PPC, then they also know they have 10 other options (the 10 others search ads on Google) that they need to explore and will most likely compare all the options.
If you're fortunate enough to get a conversion, then you must strongly consider the nurturing part as well. Because sometimes, there's a |a369aca4e3095244f7ac028f50eaa7e3|
|68c4ad7e4b4cf4e1cbb10fd6477be68d|
I remember my first PPC client.
I just got back from a pitch at a local crossfit gym in Newport Beach and I recall how nervous I was that I nearly sputtered out my price when they asked.
"Uhmm… That would be uhh… $250 a month for everything we talked about, which includes keyword bidding, ad testing uhmmm… negative keywords…"
I felt like I had to defend myself, even though they were clearly interested.
Right after the meeting, I went straight home to my bed and fell asleep because I was so emotionally drained.
Then — to my surprise — when I woke up, I had a PayPal notification showing that they'd paid.
Since then, we've |39c84521d0b758cd2bf80198033153d2| what it was back then.
And it isn't because we're trying to keep up with the rate of inflation.
It's because we know, just like your competitors know, that if our profit margins are high enough, then
we can spend more money to acquire a client,
we can be okay saying no to more of the smaller fish
and we'll have more time to work on the results for our Moby Dick clients so that we can retain them longer and make more money.
Now I know that raising prices can be a scary thing, especially when you might alienate people who aren't willing to pay what you ask.
But consider the obvious negotiation tactic of starting high and then going low.
You'll be surprised how many people are okay to pay what you charge, even if you double your pricing on your next sales call.
And when you do, don't stop there. Be a greedy pig goat.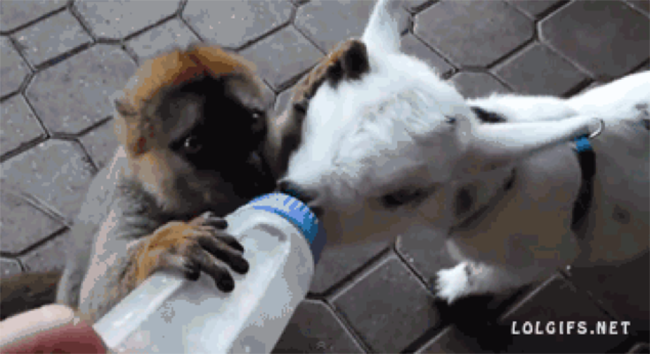 Because as soon as you have a customer that's already paying, they're 50% more likely to buy again compared to brand new prospects.
Another tactic to consider is the upsell. GoDaddy gets aggressive with its upsell, even before you've bought anything:

Sure, I'll take .net, .org and .info.
So when it comes to paying a decent amount of money for all your AdWords clicks, strongly consider what you can do |0f6b3f843d982b8bffb6c6a9e730ebf3|.
|68ff1dff7128ccd5d743be10efd4b876|
Now that you've been spending the last couple months improving your AdWords metrics and landing page conversion rates, I hope you have a stronger incentive to learn about the other improvements you could be making (both during and after conversions).
In the long run, the changes above will improve your bottom line from other marketing efforts. It won't be long until you can't even see your AdWords competition in the rearview mirror.
---
Click Here For Original Source Of The Article
"Do, or do not. There is no 'try'."
~ Master Yoda